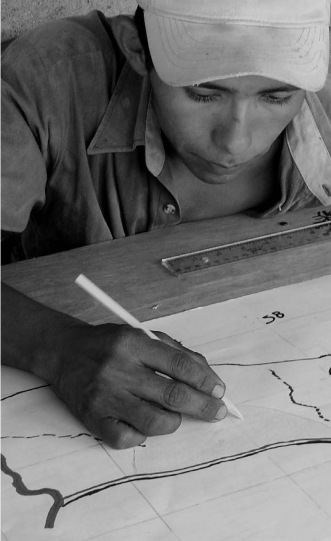 Conflicts related to land and natural resources' management have a long history in Nicaragua, a country where low levels of productivity per agricultural surface unit exist since soil and water utilization by big farmers are following extensive and predator patterns. In Nicaragua, half of the farmers do not own their land or own small and low quality plots. Inappropriate land use, poor access to it and the lack of articulation between national land policies and local land rights practices are at the origin of a strongly conflictive environment.
Communitarian cartography is a method oriented towards the prevention and resolution of conflicts related to land and natural resources' access and use, through dialogue between all concerned actors. This manual was conceived as a capacity building tool for local development organisations that wish to use techniques of cartography and particularly the GPS as an agricultural measure tool for plot delimitation. The manual systematizes two local experiences implemented in the municipality of San Juan de Cinco Pinos (Chinandega) and the community of Santo Domingo (Madriz) since 2002 .
Noémi Gonda and Denis Pommier wrote this handbook. It is published by Acción contra el Hambre and TROCAIRE with the support of the European Commission.
This handbook is available only in Spanish.
INTRODUCCIÓN: Un manual práctico de mapeo comunitario y uso del GPS: ¿Por qué y para quiénes?
PARTE I: El automapeo a escala de una comunidad
¿Qué es un mapa comunitario? / ¿Para qué sirven los mapas comunitarios? / ¿Quiénes hacen el mapa de la comunidad? / ¿Cómo hacer el mapa de la comunidad a escala? / El procesamiento de los datos en la computadora
PARTE II: La medición de parcelas con GPS
El Sistema de Posicionamiento Global / Primera utilización del GPS: inicialización y verificación de algunos parámetros / Operaciones de levantamiento de datos: puntos, altura, distancia y área / Posición geográfica, altura y delimitación de fincas / Otras funciones del GPS que es necesario conocer / El proceso de la medición de parcelas / El procesamiento de la información
PARTE III: Del mapeo comunitario y de la medición a la resolución de conflictos
Importancia de la restitución de la información / Lograr acuerdos verbales con la ayuda de los mapas / Cooperar con instituciones públicas y privadas
CONCLUSIÓN: Lograr un adecuado nivel de prevención de conflictos y un mejor uso de la tierra
Download the handbook (4 files) through the links below.
Manual de mapeo comunitario Introducción
Manual de mapeo comunitario Parte 1
Manual de mapeo comunitario Parte 2
Manual de mapeo comunitario Parte 3