Summary Paper # 27 of the French Cooperation 'Land Tenure and Development' Technical Committee
Summary
An extract from the conclusions of the 16-page document that presents the topics discussed at the workshop
« Because of its capacity to store carbon, soil can be a vector of biodiversity as well as fulfil agricultural functions. It is a common good around which shared rules are shaped at different levels by the organisations and actors involved in its management. The debates at this event showed that agrarian structures and land management systems are central to the analysis of soil storage capacity and the identification of measures likely to affect the adoption and perpetuation of 4 for 1000 practices. Family farmers have been reaffirmed as the main sequestrators of carbon and, as such, should be supported by public policies (including trade policies) to encourage the continuation of family farming and the development of 4 for 1000 practices. »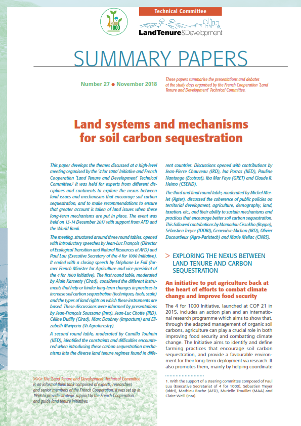 This paper develops the themes discussed at a high-level meeting organised by the '4 for 1000' Initiative and French Cooperation 'Land Tenure and Development' Technical Committee. It was held for experts from different disciplines and continents to explore the nexus between land issues and mechanisms that encourage soil carbon sequestration, and to make recommendations to ensure that greater account is taken of land issues when these long-term mechanisms are put in place. The event was held on 13-14 December 2017 with support from AFD and the World Bank.
The meeting, structured around three round tables, opened with introductory speeches by Jean-Luc François (Director of Ecological Transition and Natural Resources at AFD) and Paul Luu (Executive Secretary of the 4 for 1000 Initiative). It ended with a closing speech by Stéphane Le Foll (former French Minister for Agriculture and vice-president of the 4 for 1000 Initiative).
The first round table, moderated by Alain Karsenty (Cirad), considered the different instruments that help or hinder long-term changes in practices to increase soil carbon sequestration (techniques, tools, scale) and the types of land rights on which these instruments are based.

A second round table, moderated by Camilla Toulmin (IIED), identified the constraints and difficulties encountered when introducing these carbon sequestration mechanisms into the diverse land tenure regimes found in different countries.

The third and final round table, moderated by Michel Merlet (Agter), discussed the coherence of public policies on territorial development, agriculture, demography, land, taxation, etc., and their ability to sustain mechanisms and practices that encourage better soil carbon sequestration.
The paper can be downloaded from the link below on this page of the Land Tenure and Development Technical Committee website.
www.foncier-developpement.fr/wp-content/uploads/AN_Note-de-synthese-27.pdf