Documents of reference
Le Roy, Étienne. (2021) La révolution des communs et le droit. Nouveaux enjeux fonciers en Afrique, Amerique et Europe.
Éditions science et bien commun editionscienceetbiencommun.org 3-855 avenue Moncton Québec (Québec) G1S 2Y4
Este libro ha recibido el apoyo de la Fundación Charles Léopold Mayer para el Progreso del Hombre. Se publica bajo una licencia Creative Commons CC BY-SA 4.0
Summary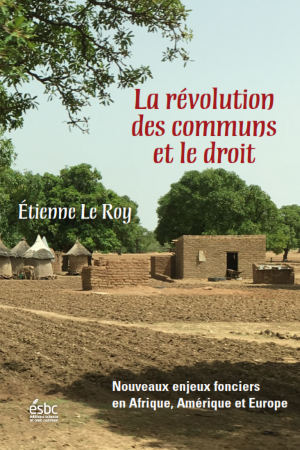 « La revolución de los bienes comunes y el derecho » y « ¿Por qué y cómo se ha impuesto la juridicidad de los bienes comunes en nuestro trabajo sobre la tierra? » fueron los dos últimos libros escritos por Etienne Le Roy.
Este libro sólo pudo publicarse después de su muerte. Agradecemos a su esposa Jacqueline Le Roy por habernos comunicado el enlace con las Editions Science et bien commun de Quebec que lo publicaron, bajo una licencia que nos autoriza a proponerlo aquí en descarga. (enlace al final de la página)
Etienne era miembro de AGTER, y había sido, desde el inicio de la asociación, uno de los principales inspiradores de nuestra reflexión colectiva.
Como señalan en el prefacio Frédéric Sultan y Camille Laurent, del colectivo Remix the Commons:
«  No hay bienes comunes sin pluralismo jurídico. Étienne Le Roy reconoce en las prácticas del bien común formas de producción del derecho. Mejor aún, explica que estas prácticas y el derecho que se deriva de ellas son legítimas y complementarias con respecto al derecho positivo ".
Nos recuerdan que « el pluralismo jurídico, es decir, el reconocimiento de la diversidad de fuentes del derecho, y la juridicidad, definida como la capacidad de los actores de producir sus propias normas, desacralizan el derecho, permitiendo comprender su naturaleza y sus modos de producción, mientras que el dominio y la mediación proporcionan herramientas interpretativas para poner en perspectiva primo y neo-común. El texto presentado en este libro y las contribuciones de Étienne Le Roy a la antropología del derecho nos invitan a resituar el derecho en una perspectiva política y a investirlo como un campo de lucha social, que Étienne Le Roy concretó a través de su participación en el Comité Técnico de Tenencia y Desarrollo de la Tierra ".
Table des matières
Prélude. (Frédéric Sultan et Camille Laurent)

Préface. (Frédéric Sultan et Camille Laurent)

Remerciements

Pour mieux faire connaissance. L'itinéraire d'un rebelle discipliné

Introduction générale. Revisiter notre conception du droit
Partie I. Des communs « hors la loi »
1. L'originalité juridique des communs
2. La logique du « faire » et la contribution d'une iconologie juridique à la juridicité des primo-communs fonciers
3. Conclusion. Passer de l'état de l'art aux données de terrains
Partie II. Des néo-communs en construction ou l'apprentissage de la compatibilité des communs fonciers avec le droit
4. Des communs contestés, un État africain en échec Le chantier avorté de la décolonisation juridique des politiques foncières, exemple du Mali
5. Des héritages à préserver. Néo-communs aux Comores et chez les Premières Nations du Canada
6. Ici et maintenant. Les habitus des Laboureurs du Vermandois à la lumière d'un nouveau droit des communs
7. Conclusion. De la procrastination dans les politiques juridiques
Conclusion générale
Bibliographie générale

Autres ouvrages de l'auteur sur le même sujet

Liste des tableaux et figure

À propos des Éditions science et bien commun