English version: Land grabbing and share of the value added in agricultural processes. A new look at the distribution of land revenues
Accaparement des terres agricoles et répartition de la valeur ajoutée: la captation de la rente foncière revisitée
Communication à la Conférence internationale Global Land Grabbing (Brighton 6-8 avril 2011)
Documents of reference
Cochet,Hubert; Merlet, Michel. Land grabbing and share of the value added in agricultural processes. A new look at the distribution of land revenues. International Conference Global Land Grabbing (Brighton April 2011)
Summary
Résumé
Cette communication examine un aspect encore peu travaillé des phénomènes de land grabbing, la question économique. Jusqu'à présent, ce sont surtout les aspects sociaux, écologiques et de droits qui ont été abordés, en ne remettant pas en cause le présupposé de l'efficience des investissements à grande échelle.
Alors que les systèmes de production agricoles familiaux à petite échelle s'étaient peu à peu imposés sur tous les continents au cours de la seconde moitié du 20e siècle, en supplantant les exploitations de très grande taille basées sur des rapports sociaux différents, on assiste aujourd'hui au développement rapide de nouvelles formes institutionnelles d'agriculture (agriculture de contrat, agriculture d'entreprise, agrobusiness) qui se caractérisent par une séparation accrue du capital et du travail.
En s'appuyant sur plusieurs études de cas en Europe de l'Est et en Amérique Latine, les auteurs montrent que ces évolutions s'accompagnent d'un déséquilibre croissant entre rémunération du capital et rémunération du travail, celle-ci pouvant aujourd'hui rester très en deçà de sa productivité. L'accès au foncier est en général négocié par les entrepreneurs à très bas prix (achat ou location), et sans qu'aucun impôt foncier ne vienne corriger cette situation a posteriori. La plus grande partie de la valeur ajoutée est affectée à la rémunération du capital, au détriment d'une juste rémunération du travail et d'un dédommagement des détenteurs du foncier, individuels ou collectifs.
Se constitue ainsi violemment et avec des effets irréversibles à moyen terme un secteur agricole capitaliste dont la très forte rentabilité ne provient pas de son efficacité propre, mais d'un double processus d'accaparement de la valeur ajoutée et de captation de la rente foncière à grande échelle. Par-delà les apparences, il ne répond donc pas aux besoins économiques de l'humanité, produire plus d'aliments et d'énergie tout en préservant l'avenir. Dans ces conditions, la promotion de la responsabilité sociale des entreprises comme parade aux inconvénients des accaparements de terres n'est qu'un leurre.
Mots clés: accaparement des terres, valeur ajoutée, rémunération du travail, rémunération du capital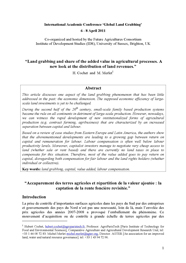 AGTER a participé à la conférence internationale Global Land Grabbing (Brighton 6-8 avril 2011), organisée par la Land Deal Politics Initiative (LDPI), le Journal of Peasant Studies et le Future Agricultures Consortium de l'Insitute of Development Studies (IDS, Université du Sussex).
Hubert Cochet (Professeur à AgroParisTech et Président d'AGTER) et Michel Merlet (AGTER) ont présenté une communication qui explore la dimension économique des phénomènes d'accaparement de terres, à partir de deux exemples et d'études de cas approfondies en Ukraine et en Équateur.
La communication en anglais est en ligne sur le site de la conférence et sur le fonds documentaire d'AGTER.
Download the document