L'Evaluation Internationale des Sciences et Technologies Agricoles au service du Développement (en anglais IAASTD, International Assessment of Agricultural Science Knowledge and Technology for Development) a été lancée en 2002 lors du Sommet Mondial sur le Développement Durable et s'est achevée par une Conférence intergouvernementale à Johannesburg en avril 2008 1.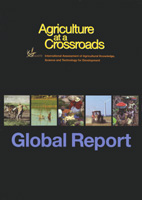 L'objectif de l'IAASTD était de mieux comprendre comment les connaissances de différentes natures, et en particulier les sciences agronomiques et les technologies agricoles, pouvaient contribuer à réduire la faim et la pauvreté, améliorer le niveau de vie des populations rurales et faciliter un développement durable et équitable, et donc de répondre aux objectifs du Millénaire pour le développement. Il s'agissait notamment de mieux situer l'agriculture par rapport à la gestion des ressources naturelles, au changement climatique, à la production et à l'utilisation d'énergie, à la santé, à la biodiversité, à l'accès au commerce international et au défi de la sécurité alimentaire.
Plusieurs centaines d'experts, réunis en un groupe « mondial » et cinq groupes régionaux, devaient tirer les leçons du passé (sur une période de 50 ans), apporter des éléments sur les futurs possibles et proposer des options pour l'action permettant de mieux atteindre les objectifs du Millénaire.
Vous pouvez retrouver ici les documents en ligne :
Jacques Loyat a participé au nom de la France à la rédaction de la partie Amérique du Nord et Europe. Il nous a fait part des conclusions et des débats soulevés.
Le diaporama projeté lors de la réunion est disponible sur cette page.
1 Pour ce faire, la Banque Mondiale s'est associée à cinq organisations du système des Nations Unies - la FAO, le PNUE (Programme de Nations Unies pour l'Environnement), le PNUD (Programme des Nations Unies pour le Développement), l'OMS (Organisation Mondiale pour la Santé) et l'UNESCO – et au GEF (Global Environment Facility).